Exhibit and share
The product group "Exhibit and share" includes our Koreder Line painting mounting system (Takiya) where, in addition to the high quality and extensive range, client specific solutions are also offered.
Also the paintings in the renewed Rijksmuseum Amsterdam are hanging on our system.
Resources and furnishings, such as showcases and exhibition walls, are also included in this product group.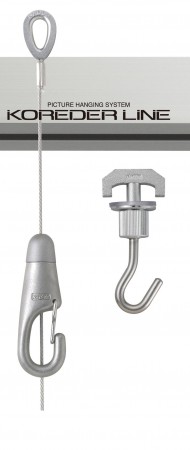 Click the link below to download the brochure "Your collection deserves Innosell".
Innosell BV
Takiya Koreder Line painting hanging system
The Takiya Koreder Line mounting system for paintings is a high quality, safe and flexible mounting system that is characterised by its many possibilities for recessed and surface mounted rails in walls and ceilings.
The rails can be delivered in any colour of choice.
Click here to download the Takiya Koreder Line catalogue
To download the Koreder Line painting hanging system brochure: click here
By clicking on the "Milkmaid" you can view a video about the Rijksmuseum Amsterdam in which our Koreder Line painting mounting system is also shown.
The MuSE programme
The MuSE programme contains products that support all museum activities and are divided into three groups. Exhibitions, implementation and surroundings

To download the MuSE catalogue: click here